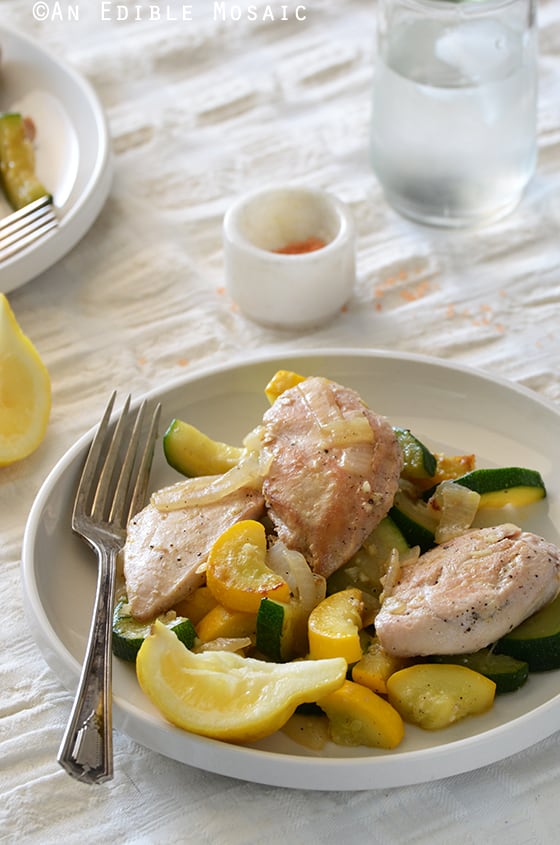 Prep Time: 8 minutes
Cook Time: 20 minutes
Ingredients
3 tablespoons olive oil, divided
1/2 lb (225 g) chicken breasts, chopped into large chunks
2 medium-large summer squash (I like to use 1 zucchini and 1 yellow summer squash), halved lengthwise and thinly sliced
1 medium onion, halved and thinly sliced
3 cloves garlic, minced
Sea salt
Ground black pepper
Fresh lemon wedges, for serving (optional)
Instructions
Heat the oil in a large, deep skillet over medium-high heat. Season the chicken on both sides with a sprinkle of salt and pepper. Once the oil is rippling, add the chicken and let it sear (about 4 to 5 minutes) before flipping it. Once browned on the first side, flip each piece of chicken over and cook until browned on the second side and fully cooked throughout (about 3 to 4 minutes more). Transfer the chicken to a bowl and set aside.
Add the summer squash, onion, 1/4 teaspoon sea salt, and 1/8 teaspoon black pepper, and cook (stirring occasionally), until the vegetables are tender and just starting to brown in spots, about 6 to 8 minutes.
Add the garlic and cook 1 minute more, stirring constantly.
Add the chicken and cook until re-warmed, about 1 minute.
Serve with fresh lemon wedges to squeeze on top, if desired.